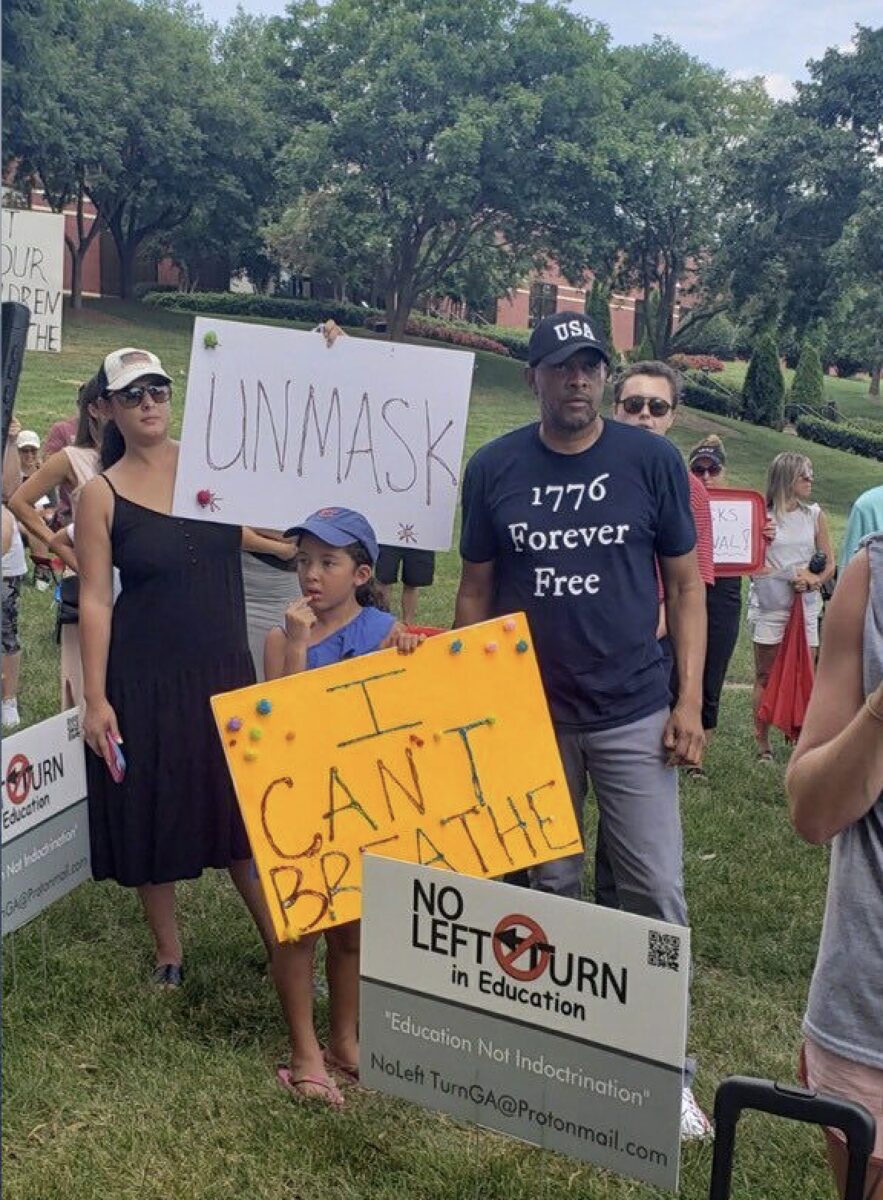 S
UWANEE,
GA – Republican Gubernatorial candidate Vernon Jones joined Gwinnett County parents on Juju 30 to protest the Gwinnett County's Public Schools' decision to re-impose its mask mandate as students return to classes this week. The requirement has caused an outcry from parents who initially were told by school officials that masks would be optional.  
The first day of school for Gwinnett County students is 
Wednesday, Aug. 4; Thursday, Aug. 5
;
 or Monday, Aug. 9, depending on which grade the student is in.
"This decision from Gwinnett County to mandate masks for the entire school year is not based on science, it's political," said Jones, who spoke at the "Unmask Our Children" event on July 30 and called on Gov. Brian Kemp to step up. The protest  was held at  the J. Alvin Wilbanks Instructional Support Center, 437 Old Peachtree Road N.W., Suwanee as the Gwinnett County Board of Education met. 
"The governor can sign an executive order sending a strong message to all 159 county school systems, 'no longer will it be required for a child to wear that mask'," Jones said. 
"Americans cannot go back to surrendering their livelihood for a virus that is not a threat to our survival. If you want to wear a mask then wear a mask, but people, especially children should not be forced to wear a mask," said Jones. "This is political child abuse. Government officials have clearly learned nothing about last year's overcorrection as a response to COVID-19, despite the survival rates among people without comorbidities. We will not go backward."
The school district, Georgia's largest with 189,589 students, announced the new mandate on last Tuesday, July 27, following the latest guidelines from the Centers for Disease Control:
"This decision takes into account current conditions, the rise in COVID-19 case rates in Gwinnett County, and the ineligibility of children age 12 and younger for the vaccine," the district said in a state on its web site.  
 Jones is running to be the next Governor of the state of Georgia. He is a former member of the GA House of Representatives (1993-2001, 2017-2021) and former Chief Executive Officer of DeKalb County, GA. A former Democrat, Jones officially switched parties in January 2021 after endorsing Donald J. Trump for President and speaking at the 2020 Republican National Convention. The proud Republican is now running to defeat Brian Kemp, as a Pro-Trump candidate who will fight for free and fair elections, and always put Georgia First.