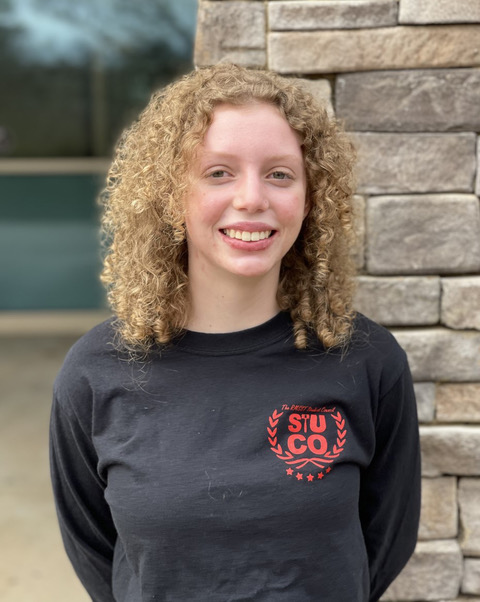 CONYERS, GA—Isabella Powell, a junior at Rockdale Magnet School for Science and Technology (RMSST) in Rockdale County Public Schools, has successfully completed the rigorous NatStuCo Student Leaders Program. Powell has earned certification and  recognition as a National Student Council Distinguished Student Leader. She is one of approximately 800 students in the nation to achieve the recognition.
"Throughout the process of completing my portfolio, I learned so much about myself as a leader. I would encourage younger students to find a way to make a difference," said Powell. "The project I'm proudest of is The Morning Daily Watch, which was a daily virtual, interactive newsletter created using Padlet that went out to all students during the first few months of the pandemic. It was a way to help keep the students connected, even though we were apart."
Susan Powell, RMSST Student Council advisor, applauded Isabella Powell for her outstanding work.
"I am very excited to have our 13th Rockdale Magnet Student Council member receive this high honor. Isabella has had to lead our Student Council under the most unusual and difficult circumstances. She never wavered and was the glue that kept Student Council together," Powell said.
RMSST Director Amanda Baskett added, "Isabella has been a collaborative and innovative student leader who always looks for opportunities to meet student needs no matter how challenging the situation."
Powell completed a series of required tasks and activities in order to complete the program and become a certified student leader. The rigorous application process involves the creation of a portfolio of evidence that demonstrates completion of a number of activities inclusive of modules on leadership, goal setting, team building, decision making, problem solving, group dynamics, time management and personal organization, meeting management, communication, evaluation, service, civic engagement and personal leadership philosophy.
Applicants must also participate in an assessment meeting with their advisors and principals to verify completion of the requirements. Student portfolios and applications are then forwarded to NatStuCo for a final review. Upon successful completion of the program, students are recognized as Distinguished Student Leaders.
The Student Leaders Program is sponsored by the National Student Council (NatStuCo) and the National Association of Secondary School Principals (NASSP). For more information on the National Student Council Distinguished Student Leaders Program, visit www.NatStuCo.org.
For more information about RMSST or about Rockdale County Public Schools, visit: magnet.rockdaleschools.org or www.rockdaleschools.org.