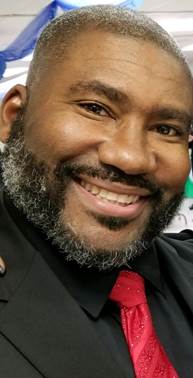 ROCKDALE COUNTY – The Rockdale County Board of Commissioners (BOC) has appointed Terrence Simpkins as Rockdale's new Director of Stormwater Management.
Simpkins joins Rockdale County with more than 25 years of experience in stormwater infrastructure, project management, floodplain management, and compliance monitoring.
Originally from South Carolina, Simpkins received his Bachelor of Science Degree in Civil Engineering Technology from South Carolina State University in 1993.  He relocated to the metro Atlanta area in 1994, where he was hired with the Georgia Department of Transportation as a civil engineering technologist.
Simpkins says he believes that through creative thinking, good customer service, and process efficiency, the Rockdale County Stormwater Department will be one of the best in the State of Georgia.
Simpkins and his wife, Kristy, have three children. He enjoys music production, golfing and spending time with his family.