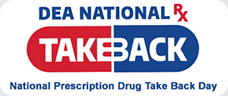 GWINNETT COUNTY, GA—The Gwinnett Police Department is partnering with the Drug Enforcement Administration for the National Take Back Initiative on Saturday, April 30, to provide a safe and convenient way to drop off unused and expired medications at various collection sites.
Tablets, capsules, patches, and other forms of prescription drugs can be dropped off at police headquarters and its six precincts from 10:00am to 2:00pm for proper disposal. Liquids, syringes, sharps, and other drugs will not be accepted.
To find a collection site, visitGwinnettPolice.com.