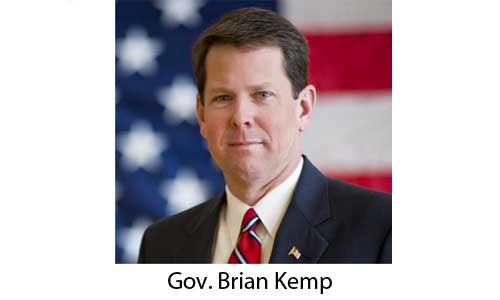 Here's the list of Georgia leaders, professionals who  will serve 
ATLANTA—Governor Brian P. Kemp announced appointments to various state boards, authorities, commissions, councils, and other state organizations.
Georgia State Board of Architects and Interior Designers
Cynthia Trimble has practiced as a professional interior designer for over 37 years. She co-founded the Allied Design Council in Atlanta with professional members from AIA, IIDA, ASID, ASLA, IDSA & AIGA, where she served as the founding president for six years. For nearly a decade, her work became a regular feature page in the Atlanta Business Chronicle. In 1992, Trimble founded her own design studio, StudioTrimble, in Atlanta. Additionally, she was instrumental in Georgia's Interior Design Licensing Law, which passed in 2010, and has previously served on the Georgia State Board of Architects and Interior Designers.
Franklin D. Roosevelt Warm Springs Memorial Advisory Committee
Ben Harris, Randy Hayes, Abit Massey, Andrew Morrow, Jaynie Nesmith, Hal Raper, Ronda Rich, and Daniel White were reappointed.
Jimmy Bass has served as the director of the Coweta Public Library System for nearly a decade. He began his professional career at the Dougherty County Public Library. Bass is the current chairperson of the Georgia Council for Public Libraries, a nonprofit formed in 1975 to promote the best interest of public libraries and their users statewide. Bass holds a master's degree in library and information science from Florida State University as well as a bachelor's degree in political science from Georgia Southwestern University.
Mint Flowers is an active community volunteer, currently serving on the Historic Columbus Board, the Historic Linwood Foundation Board, and the National Society of The Colonial Dames of America Columbus Town Committee. Flowers has held numerous other positions on boards dedicated to the preservation and restoration of historic sites, including serving on the Executive Committee for the Columbus Museum, past chair of the President's  Advisory Council for the Columbia Theological Seminary, and the past Riverfest Chair for Historic Columbus.
Bill Verner is the former executive vice president of the Georgia Electric Membership Corporation. He retired from his position in September 2020, culminating a 40-year career with the state's electric cooperatives. Verner joined Georgia EMC upon graduation from the University of West Georgia and led the representation of the EMC's interests before the Georgia General Assembly, Congress, and state and federal agencies. Verner also oversaw the publication of the EMC's popular monthly consumer publication, GEORGIA Magazine, which boasts the largest circulation of any monthly publication in Georgia. Verner's more than 30 years of expertise in the public policy and communications arenas culminated in serving on the State of Georgia's Broadband Deployment Initiative Advisory Committee from its inception in 2018 until his retirement. He currently serves as a board member for Agape Youth and Family Services, the Georgia Foundation for Agriculture, and the Fanning Institute for Leadership at the University of Georgia.
Kaye Lanning Minchew is the author of "A President in Our Midst: Franklin Delano Roosevelt in Georgia." She is the former executive director of the Troup County Historical Society and Archives. As executive director, Minchew created a model local government records repository and local history program. She has authored many articles and national conference papers on creating archives and local government records. Minchew now serves as an archival consultant and lives in LaGrange.
Haven Luke is the great grandson of Franklin and Eleanor Roosevelt, his mother being the  daughter of John Roosevelt, Eleanor and FDR's youngest son. He received his bachelor's degree from Middlebury College and went on to pursue his graduate degree from Columbia University. Luke began his career working for the U.S. State Department with a posting in what was previously Prague, Czechoslovakia. Upon returning to the United States, he joined AB Athens Inc, a printing company located in Athens, Georgia. He is also a partner in HL Capitol based in Aiken, South Carolina. Luke and his wife, Natalie, have three children.
The Board of Governors of the George L. Smith II World Congress Center Authority Georgia World Congress Center
Glenn Hicks and Doug Tollett were reappointed.
Natasha L. Bell is a partner of 360 Venture Law (Shmalo), LLC, a specialized law firm working with start-up and fast-growing entrepreneurial companies and their investors. An Emory University and Duke Law alum, she has represented entrepreneurs, emerging companies, and blue chip companies in industries such as manufacturing and retail, technology, insurance, healthcare, energy, real estate development, and private equity. Her experience includes organizing, financing, and growing businesses; representing public and private companies in mergers, acquisitions and joint ventures; private securities offerings; technology licensing; drafting and reviewing business relationship contracts; and advising restaurants and stores with respect to retail alcohol licensing in the City of Atlanta. Bell has also acted as outside general counsel for companies, aiding in the negotiation of their commercial transactions along with helping them navigate the RFP process. Before joining 360VL, Bell was the founding member of The Bell Firm, LLC and an attorney with Morris, Manning, and Martin. Prior to her legal career, she worked for the City of Atlanta. In 2019, Bell was appointed by Governor Brian Kemp to the Georgians First Commission, a commission of business leaders tasked with identifying and eliminating red tape and regulations that burden small businesses, with the aim of making Georgia the #1 state to start and operate a business.
Maxine Burton is president and founder of burton + BURTON. Since 1982, she has established her company as a leader in the balloon and gift industry. Burton earned a Bachelor of Science in Education and a Master of Education from the University of Georgia, where she was a member of Alpha Xi Delta sorority. She has continued her education at Harvard Business School, taking executive courses in 1998 and 2001. Burton has received numerous local and national awards recognizing her as a leader in her industry and for her service to her community. She currently serves on a number of boards, including the Georgia Council for the Arts, the Women's Leadership Board of Harvard Business School, and the University of Georgia Arch Foundation, where she is a trustee.
Georgia Board of Funeral Service
Joe Westbury was reappointed.
State Employee Benefit Plan Council
Spencer Moore was reappointed.
Courtney Ware joined the Technical College System of Georgia (TCSG) in January 2016 as the Director of Human Resources (HR). Prior to joining TCSG, she served as Deputy Director of HR at the Georgia Department of Juvenile Justice and in various HR positions at the Georgia Department of Corrections, with a primary focus on employee relations and compliance. During her 16 years working for the State of Georgia, she has served on various committees, including several for the State Charitable Contributions Program and the Interagency HR Practices Advisory Committee. Ware is a member of the Society for Human Resource Management and the Georgia Council for Human Resources (formerly the Council for State Personnel Administration). She served as chair of GCHR in 2018. Ware holds a bachelor's degree in marketing from James Madison University in Virginia, and an MBA in Management from Mercer University in Atlanta. She is also a senior certified HR professional through the Human Resources Certification Institute and the Society for Human Resource Management.
Georgia Board of Examiners of Licensed Dietitians
Cicely Thomas was reappointed.
Georgia Board of Dentistry
Mark Scheinfeld was reappointed.
Georgia Seed Development Commission
Ben Copeland, Jr. and Kent Fountain were reappointed.
Georgia Historical Records Advisory Committee
Glenda Anderson, Garrison Baker, W. Jeff Bishop, Beth English, Toby Graham, Kaye Minchew, Rick Story, Sheryl Vogt, and Beth Williams were reappointed.
Christina Davis is an Assistant Professor and Program Coordinator of Africana Studies at Savannah State University in the Social and Behavior Science Department. Davis graduated from Florida A&M University with a Bachelor of Science in Psychology in the spring of 2002 and a Masters of Applied Social Science in the fall of 2003. She is currently writing her dissertation on nineteenth-century teachers in the south during Reconstruction to receive her Doctor of Philosophy in History at the University of Georgia.
Laura McCarty has more than 20 years of experience and expertise in the humanities. Before beginning her career with Georgia Humanities, McCarty, a South Carolina native, earned her bachelor's degree from Wofford College and her master's degree from the University of Georgia. McCarty has served in various leadership roles throughout her career with Georgia Humanities. She also played an active role in developing and helping guide the organization's strategic plan over the past five years. Throughout her career, McCarty has also connected with the wider humanities community, including service on the boards of the Georgia Center for the Book (based at the DeKalb Public Library) and the Georgia Association of Museums and Galleries. She is a past president of the Georgia Association of Historians and the Georgia Council for the Social Studies. Additionally, McCarty is the co-state coordinator for National History Day in Georgia.
JoyEllen Williams is the Special Collections Curator at Kennesaw State University. Before arriving at Kennesaw State University, she worked as an intern for various archival repositories, including the Archives Research Center at the Atlanta University Center's Robert W. Woodruff Library, the Internet Archive, the National Archives and Records Administration at Atlanta, the Roswell Historical Society, and the Fulton County Teaching Museum. Williams is a certified archivist and a member of the Society of American Archivists, Society of Georgia Archivists, and the Rare Book and Manuscripts Section of the American Library Association.
North Georgia Mountains Authority
Nick Ayers is a managing partner at Ayers Neugebauer & Company, where he invests in and advises organizations in healthcare, entertainment, financial services, and business services. Ayers recently partnered with Insight Venture Partners to acquire Veeam Software, where he now serves as a member of Veeam's Board of Directors. Previously he helped build one of the nation's most successful media and digital buying firms and served in the White House as Assistant to the President and Chief of Staff to the Vice President. Time Magazine named Ayers one of the "40 most influential people in politics under the age of 40" and The Wall Street Journal called him a "political prodigy." In 2019, the World Economic Summit nominated Ayers to join the forum as a Young Global Leader. He earned a bachelor's in political science from Kennesaw State University.
Randy Dellinger has been with Jackson Electric Membership Corporation since 1998 and is the Gwinnett District Manager. He obtained his bachelor of science in agriculture mechanization technology from the University of Georgia and completed his MBA at Brenau University. Randy is a graduate of Leadership Georgia, the Atlanta Regional Commission's Regional Leadership Institute, and Leadership Gwinnett. He currently serves on many community and professional organization boards, including Council for Quality Growth, the Rotary Club of Gwinnett County, Gwinnett Clean and Beautiful, Gwinnett County Public School Foundation, and the chairman of the board of Gwinnett Student Leadership Team. Dellinger is previous chairman of the Gwinnett Chamber of Commerce and the Gwinnett Environmental and Heritage Center Foundation Board of Trustees. He and his family have lived in the Snellville area of Gwinnett County for the past 32 years.
Patrick Denney is a lifelong resident of Carroll County. In 1990, he graduated with a BBA in marketing from what is now the University of West Georgia. He owns and operates SLM Recycling, Inc.; owns interests in SLM Steel & Fabrication, Heavy Equipment Repair; and staffs both Carroll and Heard County Convenience Centers. He has served as a deacon and Sunday school instructor at his local church for over 20 years. In addition, he is an avid outdoorsman, owning and managing farm, timber, and hunting land in Carroll and Heard Counties. He and his wife, Lynne, have been married for over 30 years, and together they have four children.
Dwight Evans is a founding partner in the Pendleton Consultant Group. Prior to Pendleton, he held the position of executive vice president and group president at Southern Company. Evans currently serves on the board of trustees at Piedmont College. He has chaired the New Orleans Branch of the Federal Reserve Bank of Atlanta, the Southeastern Electric Exchange, the Mississippi Economic Council, the Mississippi Partnership for Economic Development, and the Mississippi Chapter of the Nature Conservancy. Evans earned a bachelor's degree in civil engineering, a master's degree in environmental engineering from Georgia Tech, and a law degree from Atlanta Law School. He and his wife, Sharon, have two children and six grandchildren. They reside in Stone Mountain.
Gary Vowell previously served as the interim Commissioner of the Georgia Department of Public Safety. A Georgia native and lifelong law enforcement official, he has mentored hundreds of police officers, served in various leadership roles across the state, and earned accolades for his service within the law enforcement community. Vowell began his law enforcement career in 1976 and graduated as a member of the 51st Trooper School. Vowell retired from the Georgia State Patrol in 1996, and after being elected Tift County Sheriff, retired from public office in late 2012. Vowell is a longtime member of the National Sheriff's Association and the Georgia Sheriff's Association. He remains actively involved in his local community.
Southern Regional Education Board
Matt Arthur was reappointed.
State Board of Registration for Professional Engineers and Land Surveyors
James Mattison is the National Account Manager for the Marketing Alliance Group with a strong background in manufacturing and marketing, including a BBA in Sales and Marketing from Georgia Southern University. Mattison is also involved in his local community, serving as a Den Leader and committee member for the Boy Scouts of America.
Georgia Board of Healthcare Workforce
Garrett Bennett is a family medicine specialist in Colquitt County and has over 20 years of experience in the medical field. He graduated from Mercer University School of Medicine in 2001. Bennett is affiliated with the Hospital Authority of Miller County and serves as a mentor for medical students across Georgia. He also serves as a diplomate for the American Board of Family Physicians and is on the Board of Directors for Bank of Early and One South Financial.
Lily Jung Henson is the CEO of Piedmont Henry Hospital where she oversees the hospital's 1,750 employees and 700 physicians. Henson joined Piedmont Healthcare in 2015 as the Chief of Neurology and joined Piedmont Henry in 2016 as the hospital's Chief Medical Officer. She received her medical degree from Northwestern University Feinberg School of Medicine and practiced neurology in Seattle with Swedish Health Services for 25 years. Henson was previously the vice president of Medical Affairs for one of Swedish's community hospitals after serving as chief of staff of Swedish Medical Center's Issaquah campus. Henson is a fellow of the American Academy of Neurology, was formerly on the Board of Directors for the National Multiple Sclerosis Society, and is the former chair for the American Academy of Neurology's BrainPAC, a political action committee that advocates for  neurologists and their patients. She also is a fellow of the American College of Healthcare Executives and was the regent-at-large for the Southeastern United States for the ACHE from 2018 to 2019. Additionally, Henson served on the Board of Directors for Henry County's Hands of Hope Clinic.
Carolyn Clevenger is a Professor and Associate Dean for Transformative Clinical Practice at the Nell Hodgson Woodruff School of Nursing at Emory University. She is responsible for the Office of Clinical Placements and the Emory Nursing Experience, including the Wound Ostomy Continence Nursing Education Center. Clevenger is the Clinical Director and a practicing nurse practitioner at the Emory Integrated Memory Care Clinic. The Clinic is a nurse-led, primary care practice for people living with dementia. She earned her BSN from West Virginia University, her MSN from Emory University, and her DNP from the Medical College of Georgia. She completed her postdoctoral fellowship at the Department of Veterans Affairs.
Board of Community Supervision
Jimmy Kitchens was reappointed.
Georgia Board of Private Detectives and Security Agencies
Antonio Long was reappointed.
Pam Griggs is the owner of Checkmate Investigations, LLC and vice president of administration for Brock & Associates Personnel, a premier staffing firm in Atlanta. She has previously served as the president of the Georgia Association of Professional Private Investigators from 2012 to 2015, and again from 2018 to 2019. Griggs has been both a member of and served as chair on the Georgia Board of Private Detectives and Security Agencies.
Georgia Real Estate Appraisers Board
Scott Murphy was reappointed.
Board of Human Services
David Barbee was reappointed.
Board of Corrections
Chris Clark, Andrea Shelton, and W.D. Strickland were reappointed.
Board of Community Health
David Crews and Anthony Williamson were reappointed.
Georgia Technology Authority
Sonya Jenkins began her career as a defense contractor supporting various missions at Robins Air Force Base. Throughout her career, Jenkins held different positions including Software Engineer, Program Manager, Operations Manager, Director of Proposals, and Vice President of Program Operations. Jenkins is currently Chief of Operations for Advance Project Consulting, a defense contracting firm that provides engineering, aviation, logistics, and IT/cyber services, and she remains deeply committed to organizations whose mission is serving people. As an active member of her community, Jenkins served as the chairwoman of the Board of Directors for the Robins Regional Chamber of Commerce.
Georgia Commission on Women
Sallie Barker and Karla Jacobs were reappointed.
Georgia Commission on the Holocaust
Chuck Berk, Sara Kogon, and Lisa Olens was reappointed.
Dexter Caffey is the founder of Caffey Investment Group. Over the past 20 years, he has helped institutional clients access financial platforms to hedge their portfolio risk and reduce costs. In 2018, Caffey founded Smart Eye Technology, Inc., a cybersecurity company that integrates a suite of tools into a single platform, providing continuous multi-factor biometric authentication for identity verification and access management. He is a volunteer at the Jewish Federation of Greater Atlanta and the nonprofit organization Conexx, the American-Israel Chamber of Commerce. He and his wife reside in Atlanta.
David Birnbrey is chairman and co-CEO of The Shopping Center Group (TSCG). Birnbrey began his career in 1980 in industrial real estate sales and leasing, but within two years he segued into retail; he joined TSCG in 1985. A graduate of the University of Georgia, he has served on the Board of Directors of Chainlinks, the Chainlinks Executive Committee, and has chaired numerous committees. He is a member of International Council of Shopping Centers (ICSC) and a member of the Commercial and Retail Development Council Gold Flight of Urban Land Institute (ULI). Birnbrey has served as a member of the board of Atlantic Station, Board of Trustees of the Jewish Federation of Greater Atlanta, and the president of JNF Atlanta. He is the son of a Holocaust survivor.
Georgia Aviation Hall of Fame
Don Brooks, Patrick Epps, Henry Lowe, and Alan Wayne were reappointed.
Christopher Bodine has been a member of the StandardAero team for 30 years. With over 35 years of experience in aviation, Bodine initially obtained his A&P license from Lively Technical College. He worked for the Combs Gates/AMR Combs Fort Lauderdale, Florida facility in both the airframe and engine shop. While at StandardAero, Bodine began working as an airframe A&P mechanic and progressed through the ranks to his current position as general manager in 2009. He also served for 14 years in the Army National Guard performing various roles in the maintenance field in many combat engineer companies.
Amber Clark holds a Bachelor of Science degree in Aviation Management from Florida Institute of Technology and received her Certified Member (C.M.) designation from the American Association of Airport Executives (A.A.A.E.). Since obtaining her private pilot's certificate at the age of 18 from Aero Atlanta Flight School at the Cobb County International Airport (KRYY), she has been very active in the industry completing her commercial pilot's certificate, along with her instrument and multi-engine rating with currently a little over 350 hours of flight time. Clark currently serves as the Airport Director for Columbus Metropolitain Airport (CSG).
John LaHood was elected to the Georgia House of Representatives through a special election in February of 2018. In the House, he serves on several committees, including Health & Human Services, Human Relations & Aging, Game, Fish & Parks, and Information and Audits. LaHood is also the owner and president of Fellowship Senior Living, Inc. In addition to running his business, he remains actively involved in numerous organizations, such as Leadership Georgia (Class of 2015), Georgia Senior Living Association, Valdosta/Lowndes Chamber of Commerce, Valdosta Rotary Club, and the Boys & Girls Club. He was previously president of the Assisted Living Association of Georgia. LaHood is an instrument rated private pilot.
Edward Lowe follows the footsteps of a family passion for aviation and works as the Vice President of Quality Control for Lowe Aviation Co. Lowe graduated from Georgia Southern University with a bachelor's degree in biology and a master's degree in forest resources from the University of Georgia. Lowe is active in the aviation community, serving as a volunteer for the Georgia Aviation Hall of Fame and a volunteer pilot for Angel Flight. Lowe is also a licensed private pilot, with years of education and experience in aviation facilitated by family relationships with aviation groups across the state.
Michael Mathews has a wealth of experience in the aviation industry and lifelong interest in aviation. Prior to his appointment as airport director at Richard B. Russell Regional Airport, Mathews worked in flight operations and as a dispatcher for three air carrier operations – Nations Air Express, Air South Airlines, and Prestige Airlines – in Georgia, South Carolina, and Tennessee. Mathews started learning how to fly at the age of 15 and holds a private pilot certificate with an instrument rating. He graduated from Covenant College with a bachelor's degree in organizational management, as well as the Sheffield School of Aeronautics as a Federal Aviation Administration Certified Aircraft Dispatcher. He currently serves as an officer on the Board of Directors and treasurer of the Georgia Airports  Association. Mathews previously served as president, secretary, and vice president of the association. He is also a member of the American Association of Airport Executives National and Southeast Chapters.
Georgia Peace Officer and Standards Training Council
Mitch Ralston was reappointed.
Board of Public Health
Cynthia Mercer was reappointed.
Georgia Composite Medical Board
Dr. Srenni Gangasani has been a practicing Cardiologist in Lawrenceville, Georgia for over 20 years. He has board certifications in cardiovascular disease, echocardiography, nuclear cardiology, heart failure, and transplantation. Gangasani is a founding partner of Cardiovascular Group based in metro Atlanta. He was past president of Georgia Association of Physicians of Indian Heritage (GAPI), past board of trustee and vice chair of American Association of Physicians of Indian origin (AAPI), chair of 37th AAPI convention in Atlanta in 2019, and chair of AAPI Global Health Summit for the years 2019-2020 in Hyderabad, India. Gangasani was past chair of the Department of Internal Medicine at Northside Gwinnett Hospital, past board member of Gwinnett Medical Center Foundation, and current director of GAPI Volunteer Clinic, and chair of the Board of Directors for the Association of Telugu Medical Graduates of USA (ATMGUSA). He currently serves as chair of the AAPI Awards Committee for the years 2020-2021.
Dr. Subrahmanya Bhat is a pulmonologist in Stockbridge, Georgia, and is affiliated with multiple hospitals in the area, including Southern Regional Medical Center and Piedmont Henry Hospital. He received his medical degree from Calicut Medical College and has been in practice for more than 20 years. Bhat is board certified in internal medicine, pulmonary medicine, critical care medicine, and integrative pain management. He is an active Rotarian and serves as a board member at Clayton State University, the Hindu Temple of Atlanta, and Good Shepherd Clinic. He also served as chairman of local Kannada Koota, and is the recipient of multiple community service awards and top physician awards.
Georgia Child Support Commission
Justice Shawn LaGrua was appointed by Governor Kemp to the Georgia Supreme Court in December 2020. Prior to joining the Supreme Court, Justice LaGrua was appointed to the Superior Court of the Atlanta Judicial Circuit by then-Governor Sonny Perdue and served on the bench until January 2021, having been elected in 2012 and reelected in 2016 and 2020. While serving on the bench in Fulton County, Justice LaGrua initiated and presided over "My Journey Matters", a pilot probation program designed to divert young offenders from a lifetime of incarceration, and presided over the Court's first Re-Entry Court, which worked to integrate prior offenders back into the community using close supervision, substance abuse counseling, job training, and advancing education. Justice LaGrua was previously appointed by Governor Deal to the Georgia Child Support Commission and served as chair of the Judicial Council's Process Servers Committee. She is a founding member and past chair of the Georgia Association of Women Lawyers, Judicial Application Review Committee. She is an alumna member of Leadership Atlanta, Class of 2012, and served as the vice chair of the Criminal Justice Day for 2014-2015 and 2019. Justice LaGrua graduated from the University of Georgia and received her Juris Doctor from the Georgia State University College of Law.
Board of Economic Development
Dennis Chastain, Eric Johnson, Jay Neely, and Matthew Swift were reappointed.
Board of Juvenile Justice
Willie Bolton, Thomas Coleman, Angie Holt, Penny Penn, Fred Stephens, and Gary Yandura were reappointed.
Joyette Holmes is a native of Valdosta, Georgia. She attended the University of Georgia where she earned dual Bachelor of Arts degrees in psychology and criminal justice and went on to earn her Juris Doctor degree from the University of Baltimore School of Law in Maryland. Prior to being appointed by Governor Brian Kemp as the District Attorney for the Cobb County Judicial Circuit, Holmes served the citizens of Cobb County and the State of Georgia in numerous roles. Holmes most recently served for over 4 years as the elected Chief Magistrate Judge for the Cobb Judicial Circuit. She has served as a prosecutor under District Attorney D. Victor Reynolds and Solicitor General Barry Morgan. She also operated and served clients in private practice in the Law Office of Joyette Holmes. Her community involvement includes being a member of several civic and service organizations, including Alpha Kappa Alpha Sorority, Inc., and serving as a board member for MUST Ministries, the Cobb Community Foundation, the Davis Direction Foundation, and the Cobb Chamber of Commerce.
Kathryn Powers is a lifelong resident of Clayton County. Powers graduated from Mercer University's Walter F. George School of Law obtaining her Juris Doctor with an Advanced Legal Writing Certificate, Cum Laude in 2009. Upon graduation, Powers returned to Clayton County and began her legal career in the Clayton Judicial Circuit District Attorney's office. In March of 2013, Powers became Deputy Chief Assistant District Attorney for the Crimes Against Women and Children Unit. Throughout her career, she has received many accolades, including Assistant District Attorney of the Year, the Robert E. Keller Employee of the Year, and the Clayton County Chamber of Commerce Women in Business Spotlight Award. In 2017, Powers was appointed State Court Judge of the Clayton Judicial Circuit and was later appointed to the Superior Court of the Clayton Judicial Circuit where she served until December 31, 2020. Presently, Powers is a Visiting Assistant Professor at Mercer University School of Law also serving as the law school's Director of Advocacy.
Timothy McCulley has been the pastor of Philadelphia Baptist Church for the last 19 years. The church has grown under his leadership and has started Philadelphia Christian School and North Georgia Baptist College. He has a master's degree from Macedonia Baptist College and a doctorate degree from Faith Baptist Institute. He serves with the Rock of Ages ministry as a member of the Board of Directors. This ministry labors in the prisons and jails in the United States and internationally. He and his wife have two grown children, along with two grandchildren. He loves to serve the Lord and enjoys fishing.
Council on American Indian Concerns
Heidi Altman, Francis Crews, Donald Kirkland, Nealie McCormick, Royce McCrary, and M. Jared Wood were reappointed.
Georgia Public Telecommunications Commission
Sloane Drake, Mary Ellen Imlay and Camilla Knowles were reappointed.
Gregory Garrett is co-founder and CEO of TeleNet Marketing Solutions. Under his leadership, TeleNet has effectively expanded to meet growing client demands, while increasing productivity and maintaining TeleNet's never-ending commitment to high quality standards. Prior to co-founding TeleNet, he worked at an Atlanta-based marketing firm where he moved from an entry level position to vice president of sales and marketing. Garrett earned his Bachelor of Fine Arts degree from Valdosta State University. He and his wife, Kiddy, have two daughters and reside in Greene County.
Veterans Service Board
Timothy Paslawski was born and raised in the Washington, D.C. area, leaving home in 1989 for military service with the Marine Corps. A machine gunner by trade, Paslawski served during the First Gulf War and held a "top secret" clearance as he helped implement the START 1 treaty at the Kings Bay Naval Submarine Base. After four years of military service, he graduated in 1996 from the University of Georgia with a bachelor's degree in history and was a member of the Phi Kappa Psi fraternity. Paslawski has been in sales for over 25 years, having worked with companies such as Altria, Novartis, and Johnson and Johnson. Currently, he is the North American Training Manager for Johnson and Johnson Surgical Vision. Further, Paslawski is the franchise owner of four Chicken Salad Chick restaurants in the Savannah area and is a member of the Franchise Advisory Council. In his spare time, he is an avid runner, a prison ministry volunteer at Coastal State Prison, and is on the Executive Leadership Board for the Boy Scouts Coastal Region where he works with State Representative Derek Mallow. He and his wife, Kelly, have three children.
Board of Community Affairs
Clinton Johnson has served on the Dougherty County Board of Commissioners since 2013 and is a retail sales manager for Bottoms Up! LLC. In his current role, he manages all aspects of multi-site business operations for the organization's community outreach model, including after-school programs, housing and urban development, mentoring, re-entry, truancy monitoring and prevention, workforce development, and USDA programs. Johnson formerly served as director of outreach services for Mt. Olive Community Outreach Center, Inc. and as the youth program services coordinator and as the housing and community development specialist. He is an At-Large Representative for Advancing Georgia's Counties (ACCG) Board of Managers, where he also served on the Personnel Committee in 2018. He has previously served as a board member for the Albany-Dougherty Economic Development Commission, the Executive Advisory Board for the City of Albany Transitions House, the Georgia Occupational Award of Leadership (GOAL) Nominating Committee, Regional Committee for the Georgia Suicide Intervention and Prevention (GSPIN), Executive Board Member for Mt. Olive Community Outreach Center, Inc., and the Southwest Georgia Regional Commission.
Randall Walker is president and managing partner at the Walker Energy Group LLC in Perry. Prior to Walker Energy Group LLC, he had a 43-year career with Chevron. Walker is currently serving his third term on the Perry City Council, and in 2019, he was elected to serve as Mayor Pro Tempore. An active member of Georgia Municipal Association, Walker serves as the Municipal Government Policy Committee Chairman for the Legislative Policy Committee. He is a member of the Board of Managers for Church Home Rehabilitation and Healthcare, LLC, a member of the Perry Area Historical Society, and an active Rotarian. He and his wife, Terre, have been married for over 50 years and have two daughters.
State Board of Physical Therapy
Charles Bass, Jr. was reappointed.
Georgia Board of Massage Therapy
Craig Knowles and Pam Nichols were reappointed.
Nonpublic Postsecondary Education Commission
Pranay Udutha is Deputy Chief of Staff and Director of Strategy, Operations, and Corporate Development at ARPA-E. Udutha previously worked as senior advisor to the senior counselor to the President, where he led the White House's drug and crime Congressional strategy in 2018, resulting in the signing of bipartisan legislation to combat the opioid crisis. Udutha graduated from the University of Georgia in 2014 with bachelor's degrees in international affairs and international economics before continuing his graduate education at Georgia Washington University, where he studied policy and management. In 2018, Udutha was a recipient of the National Association of Asian Pacifics in Politics and Public Affairs 40 Under 40.
Drew Van Horn is president of Young Harris College. He has over 30 years of experience in higher education, including nine years as president of Brevard College in North Carolina, a private, residential liberal arts college affiliated with the United Methodist Church. Prior to his tenure at YHC, Van Horn served as interim vice president of university advancement at Iowa Wesleyan University in Mt. Pleasant, Iowa. He also served as vice president of institutional advancement at Lenior-Rhyne University in Hickory, North Carolina. Van Horn currently serves on the Board of the Georgia Independent College Association and the Peach Belt Athletic Conference. He is a two-time Academic All-American in basketball and is a member of the Elon University Athletic Hall of Fame. Van Horn earned a Bachelor of Arts at Elon College, a M.Ed. from Campbell University in Buies Creek, North Carolina, and a Ph.D. in Higher Education Leadership from the University of South Carolina. He and his wife, Camille, have two grown children.
Doug Roper is the Mayor of Vidalia and the Branch Manager at Vidalia Federal Savings Bank. An active member of his community, Roper has served on the Toombs-Montgomery Chamber of Commerce Board of Directors, is on the fundraising committees for the Mercy Medical Clinic and Meadows Regional Medical Cancer Center, and is a mentor with Toombs County Family Connection. He served for nine years as a member of the Vidalia City Schools Board of Education and serves on the Board of Directors of the Georgia School Boards Association. Currently, he serves on the local Board of Directors for the Fellowship of Christian Athletes. Roper holds a bachelor's degree in speech and communications from Clemson University. He and his wife, Marly, have two sons.
P.K. Martin is a former state senator from Georgia's 9th District. During his time in the General Assembly, Martin was the chairman of the Education and Youth Committee and served as an Administration Floor Leader from 2017-2021. In 2000, he graduated from Georgia Tech with a bachelor's degree in international affairs and went on to join Hood Insurance Agency, where he is now president. He and his wife, Amanda, have two children and are active members of Holy Cross Cathedral in Loganville.
Savannah-Georgia Convention Center Authority
Patrick Farrell and Charles Ansley Williams, Jr. were reappointed.
Pritpal Singh is the General Manager for Perry Lane Hotel, a Luxury Collection Hotel in Savannah. He was named General Manager of the Year 2019 by the Georgia Hospitality and Lodging Association. Before joining Perry Lane Hotel, Singh was with Loews Hotels and Resorts, serving as general manager of The Loews Hotel 1000 in Seattle. For two years, he was accountable for conceptualizing the multimillion-dollar renovation and repositioning the hotel in the Seattle market. Singh oversaw the property-wide renovation of Loews Ventana Canyon Resort in Tucson, Arizona and seamlessly transitioned the Loews Regency San Francisco Hotel from the Mandarin Oriental. Also, on the hospitality front, he served as hotel manager at Hawks Cay Resort, where among many accomplishments, he significantly increased profitability. Singh spent over a decade with Gaylord Opryland Resort & Convention Center, where he quickly rose through the ranks holding various leadership positions. Singh holds a bachelor's degree in hospitality from Robert Gordon University in Aberdeen, Scotland, a post-graduate diploma in hotel management from the IHTTI School of Hotel Management in Neuchatel, Switzerland, and is on the Board of Directors of Visit Savannah and Savannah Chamber of Commerce.
Anne Scheer is a native of Savannah, Georgia, and a graduate of Armstrong Atlantic State University. She is the office manager for the law firm of Scheer, Montgomery & Call, P.C. Scheer has served on the Georgia International and Maritime Trade Center Authority, and currently serves as an advisory board member for the Business Administrative Technology Program and Savannah Technical College. Scheer volunteers with the American Diabetes Association and the Curtis & Elizabeth Anderson Cancer Institute. She and her husband, Steve, have two adult children.
State Board of Accountancy
Michael Mixon was reappointed.
Georgia Government Transparency and Campaign Finance Commission
Darryl A. Hicks is a financial planner with MassMutual Financial Group. In 2010, he ran for Labor Commissioner for the State of Georgia, attracting over 1 million votes in the general election. Prior to the election, he served as the chief of staff to the chairman of the Fulton County Board of Commissioners. Hicks is currently on the Fayette County Development Authority, where he serves as chair, and Fayette County Board of Elections. He is the most recent past chair of the Board of Directors of Atlanta Habitat for Humanity and a trustee of Young Harris College. He is a member of Alpha Phi Alpha Fraternity. Previously, Hicks served on the Atlanta Metropolitan College Foundation, where he served five years as its chairman, advisory council of Habitat for Humanity of Atlanta, the boards of Atlanta-based Mutual Savings Credit Union, Big Brothers Big Sisters of Atlanta, Center for the Visually Impaired of Atlanta, and the Butler Street YMCA. He was also a member of the Atlanta Junior League Advisory Committee and chaired the South Metro March of Dimes annual drive. President George W. Bush honored Darryl as the "Outstanding Volunteer of Georgia" in 2002. In 2003, Hicks earned an MBA in Executive Management from Georgia State University's J. Mack Robinson College of Business—while working full time at AGL Resources. The school honored him with the Brook's Community Award for his exemplary record in the field of community service and business ethics. He also holds a bachelor's degree in accounting from Morris Brown College in Atlanta, Georgia. He and his wife, Shirelle, have three children.
Board of Human Services
Rochard D. White is pastor and founder of New Beginning Worship Center, as well as the owner and CEO of White Funeral Home & Cremation in Commerce. He also sits on the Board of Commerce Comprehensive Plan Committee. In 2019, Governor Kemp invited White to participate in the Inaugural Prayer Service. He and his wife, Brittney, have four children and five grandchildren.
Sexual Offender Registration Review Board
Jerry Bruce was appointed as Georgia's Child Advocate in June 2021. Bruce has 26 years of experience in child welfare and juvenile justice law. Since 2015, he has worked as Georgia's court improvement program director and as program attorney for the Georgia Supreme Court Committee on Justice for Children. Previously, he served as a juvenile courts judge in the Enotah Judicial Circuit, and as a special assistant attorney general representing the Department of Family and Children Services in Union, Towns, and Rabun Counties. Bruce received his Juris Doctor from the University of Georgia in 1993, as well as a Master of Arts in English Literature from Louisiana State University in 1990.