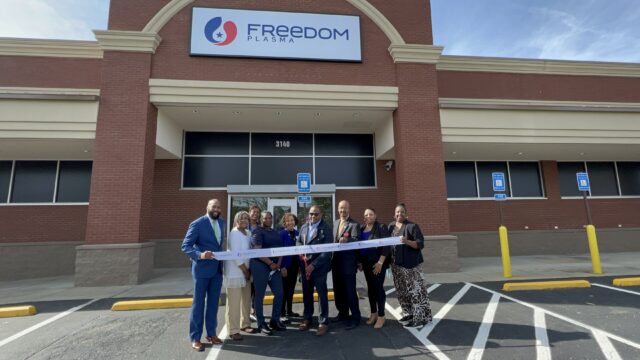 STONECREST, GA—Freedom Plasma officially opened its Stonecrest location on Monday, April 4, hosting a ribbon cutting ceremony and open house for the community to learn more about the need for plasma donations and incentives for giving.
The new facility, located at 3140 Turner Hill Road in the former Rite Aid pharmacy building, will have an economic boost of approximately $5 million per year for the Stonecrest community, officials said. And beginning today (April 5), donors—who must be ages 18-65 and have a verifiable home address and provide other identification—will receive bonuses.
"We are glad to be here in Stonecrest and we're looking forward to serving the community," said Center Director Desmond Erick-James.
Mayor pro tem George Turner attended the ribbon cutting ceremony, along with Stonecrest Chamber of Commerce President Chris Seabrook and other Chamber board members.
Erick-James said the Stonecrest facility would be able to accommodate about 16 donors at any given time. He said the facility has averaged 27 donors a day during its soft opening phase, but he expects those numbers to grow as more people learn about the new facility.
Donated plasma is used to create many life-saving medicines and plasma-based treatments, and there is a tremendous demand for plasma worldwide. The need for plasma increases between 6% and 8% every year.
The United States provides two-thirds of the world's plasma. Unfortunately, the COVID-19 pandemic has impacted the numbers of plasma donations. Last year, there was a 15% drop in plasma donations across the country. The Stonecrest Freedom Plasma Center will help to reduce the shortage of donationsErick-James said.
Erick-James announced that the Stonecrest center is kicking off its grand opening by boosting compensation for donors. New donors, he said, would receive $100 for the first six visits and after that, they become "qualified donors" and receive $45 for the first visit and $65 for the second visit in a seven-day period. Public safety workers, such as police and firefighters, and military veterans will receive an additional bonus on top of the regular compensation. Donors may only make two visits per week, Erick-James said.
Donors must provide proof of residency, a driver's license, state identification, Social Security Number, or other acceptable ID and pass a medical screening process. Donors must be in good health, Erick-James said.  He said donors can expect to spend about 90 minutes for each donation visit.
Currently, the Stonecrest facility's hours are 10 a.m. until 4 p.m., Tuesday through Saturday. Erick-James said the hours may expand to evenings to accommodate people who are working during the day. For more information, visit freedomplasma.com or call 470-283-1825.
ABOUT FREEDOM PLASMA 
In addition to the Stonecrest location, Freedom Plasma has a location in Statesboro, GA.  There also are centers in Alabama, Florida, Kansas, North Carolina, South Carolina, Illinois, Michigan, Ohio, Pennsylvania, New York, Tennessee, Texas, Virginia and more planned for other states, according to Freedom Plasma's web site.
Freedom Plasma was developed and is managed by ImmunoTek Bio Centers LLC in partnership with a global healthcare company and leading manufacturer of plasma-derived medicines.
ABOUT IMMUNOTEK BIO CENTERS, LLC 
ImmunoTek Bio Centers LLC is the fastest-growing independent plasma collection center operator in the United States and is a global leader in developing a reliable plasma supply chain for biotech companies. Since its inception in 2013, ImmunoTek has built and operated more than 50 plasma collection centers, most of which are or are in the process of becoming FDA-licensed and EU- certified, with nearly 40 additional centers in progress.