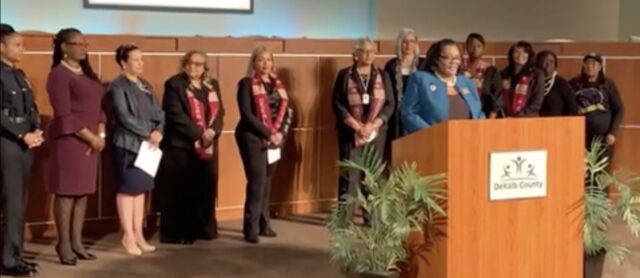 DECATUR – DeKalb County officials today announced a new partnership to assist county residents with applications for the Georgia Rental Assistance Program (RAP).
The DeKalb Section of the National Council of Negro Women (NCNW) is launching the new partnership on Saturday, April 2, in collaboration with the DeKalb County School District, Clerk of the Superior Court, DeKalb County Sheriff's Office and the Georgia Department of Community Affairs (GDCA).  Federal funding to assist families with rents, utilities, moving and other expenses is being provided by the GDCA, which is administering Georgia's $989 million rental assistance program.
"We are excited and ready to go. We know there are families out there in need and we are looking forward to helping them to apply for assistance," said DeKalb NCNW President Derrica D. Williams.
All of the NCNW members assisting with the program are volunteers who must complete a 6-hour, state-mandatory` training course. Williams said 21 DeKalb NCNW members have been trained so far.
Adrion Bell, GDCA director of marketing and community affairs, said the collaboration is a key partnership formed with the state of Georgia.
"Educators have stated that one of the main impacts on education is homelessness. Children are being shuffled around as families try to deal with looking for a place to live. Many of them don't have a way to fill out the application for the rental assistance program," said Bell. "We appreciate the NCNW and the DeKalb County School District and others who are partnering to assist with this program."
DeKalb County Schools Superintendent Cheryl Watson-Harris said that a stable, home environment plays a major role in the educational success of students  and applauded the collaborative work being done to ensure local families are being assisted in getting the financial assistance they need. Nearly 72 percent of DeKalb County School District students qualify for free and reduced lunch, and more than 17 percent are designated as homeless– individuals who lack a fixed, regular, and adequate nighttime residence. In July 2021, the U.S. Census Bureau reported that approximately 15.8 percent of DeKalb County residents live in poverty. 
"As a District, we are committed to ensuring that all of the children are well. Ensuring our scholars well-being means that we must build trusting relationships like these and work as equal partners with our families," Watson-Harris said. "The impact of this collaboration not only ensures that the children are well but that the entire community is well. When we are well, our scholars are achieving educational excellence,  our communities are thriving, and our families are able to see the direct connection between their empowerment and student success."
Williams said the DeKalb NCNW will use mobile units and computer labs provided by the DeKalb County School District. Volunteers will go to middle and high schools across the county to help tenants and landlords who need help filling out the applications online.  The times scheduled will be after-school hours.
"Many families are living in motels and do not have access to computers and scanners to submit the documents needed for the applications. Others may not be tech savvy and require assistance in submitting the information. Our volunteers will be assisting them with the application process," said Williams.
In addition to rental assistance, those who need help will be able to apply for help with utilities, moving and other expenses. The statewide program can provide up to 18 months of rental and utility assistance, paid directly to participating landlords and service providers on behalf of tenants.
"Families don't have to be late with their bills. If, for example, they recently lost their jobs and are facing a hardship in paying their rent or if the rent has gone up and they lack the resources, they may apply for assistance," said Williams.
The application assistance program will continue for as long as funds are available this year, Williams said. Those who do not need in-person assistance can start the screening process on the Georgia Department of Community Affairs website at: www.georgiarentalassistance.ga.gov  or  for more information, contact paymyrent.ga.gov.
The DeKalb NCNW application assistance program will kick off on Saturday, April 2, 10 a.m. – 1 p.m., at Mary McLeod Bethune Middle School, 5200 Covington Highway, Decatur.  Multiple dates and locations will be announced later.
Pictured: DeKalb Section NCNW President Derrica D. Williams, flanked by community partners, announces new collaboration at the March 30 press conference.