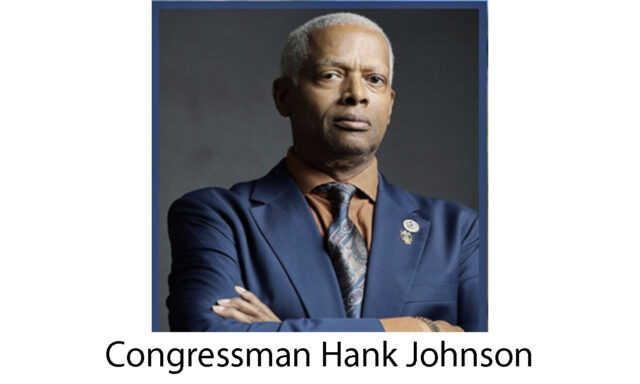 Congressman Henry "Hank" Johnson (GA-04) is encouraging 9th – 12th grade high school students, living or attending high school in the district, to submit their art creations as part of this year's Congressional Art Competition.
"Art can have so many interpretations and cross so many boundaries, while still bringing folks together. This annual competition allows our students to share a piece of their lives with us through their works," said Johnson. "Whether it be a message of protest or one of strictly fun and pleasantries; I look forward to what our students will put forth."
Each year, this national competition calls upon high school students of all backgrounds and skill sets to submit their art for the chance to showcase their winning pieces in their congressional district as well as in the U.S. Capitol. Participating students will have an opportunity to win scholarships and other prizes.
Due to COVID and to keep the students, teachers, parents, judges and congressional team members safe, all artwork will be submitted online. Submit a clear photo of your artwork along with your completed application. We recommend that the photo of your artwork is taken in a space that has excellent artificial lighting or taken with natural lighting (outside.) Please be sure to capture the entire art piece while also capturing the detail and color of your artwork.
There is no required theme to enter the art competition. The submission deadline is April 12, 5 p.m  Use the link to confirm that Congressman Johnson is your representative: https://www.house.gov/representatives/find-your-representative.
Each student is allowed no more than two entries. Eligible artwork includes the following:
Paintings: oil, acrylics, watercolor, etc.
Drawings: pastels, colored pencil, pencil, charcoal, ink, markers
Collages: must be two dimensional
Prints: lithographs, silkscreen, block prints
Mixed Media: use of more than two mediums such as pencil, ink, etc.
Computer-Generated Art
Photography
For more information, rules and guidelines for the 2022 competition, visit https://hankjohnson.house.gov/serving-you/art-competition. You can also call Xeron Pledger or Eric Hubbard at 770-987-2291. Submit all artwork to Art.GA04@mail.house.gov.