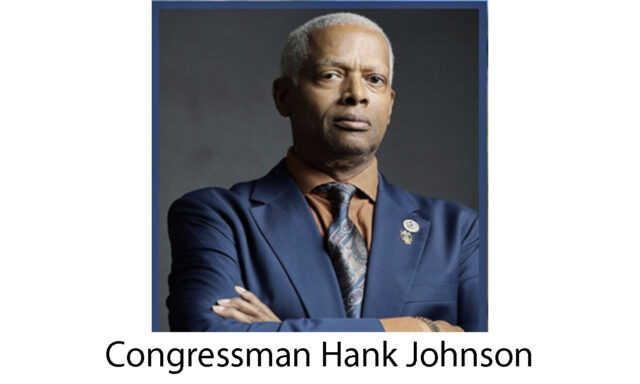 WASHINGTON, D.C. —President Joe Biden is expected to sign into law government funding legislation that includes eight community projects secured by Congressman Hank Johnson (GA-04). The projects, which total nearly $5 million and are included in the appropriations government funding package, respond directly to some of the most pressing needs in Georgia's Fourth District.
"Ensuring that constituents in Georgia's Fourth District have the resources we need to make our community healthier, safer, stronger, and even more resilient is my number one priority," Johnson said. "These investments support underserved areas and foster economic development, making a real difference in the lives of so many in our community. I am proud to have fought for funding that will make a real difference in Georgia's Fourth. I look forward to the Senate passing the Omnibus as well and President Biden signing these into law."
Rep. Johnson championed funding for eight projects that will directly benefit GA-04 residents.
These include:
$800,000 for Flat Shoals Parkway (SR 155) Sidewalk Improvements — Columbia Drive to Flakes Mill Road in South DeKalb
$600,000 for Derrydown Way Complete Streets Project in Decatur
$800,000 for Fairview Road Multi-use Trail, Newton County: The path is proposed to end at the Rockdale County line, but in the future could be tied together with the new multi-use trail being constructed along SR 162 (Salem Road) by GDOT
$1 million for Georgia Piedmont Technical College Regional Transportation Training Center in Clarkston
$900,000 for Dried Indian Creek Corridor Protection and Connection Initiative in Oxford
$209,000 for Creative Village Affordable Housing and Studio Complex for Artists in Decatur
$300,000 for MedCura Health (formerly Oakhurst Medical), Stone Mountain for mental health services for people experiencing homelessness
$325,000 for CDF Action, Clarkston for the READY School initiative;
For more information on the Community Funded Projects, click HERE.
DeKalb County District 3 Commissioner Larry Johnson, who represents the area where the Flat Shoals sidewalk project will be completed, said he appreciates the Congressman's leadership on the community funding. Larry Johnson requested the project.
"Congressman Johnson is a leader in so many ways, but it's his commitment to infrastructure – his push for heavy rail in our communities, federal investments in sidewalks and funding for trails in South DeKalb – that we appreciate so much and is making a big difference. He's really become the infrastructure Congressman."
The 12-bill government funding package will help middle class families with the cost of living, create American jobs, supports the vulnerable, and works to help small businesses and restaurants that are key to our economic future. Taken together, the funding for GA-04 and the funding increases for critical government programs will reverse decades of disinvestment in our communities and strengthen our nation.
A detailed summary of the bill is available HERE.
For more information on the Community Funded Projects, click HERE.