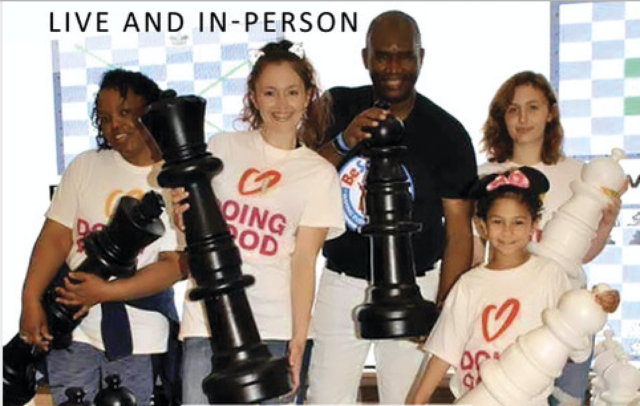 STONE MOUNTAIN, GA – A series of news headlines have blasted across metro-Atlanta over the past few weeks, offering a disturbing pattern involving teens in metro Atlanta:
"16-year-old boy killed, 2 other teens shot near Atlanta fair"
"Teen arrested on murder charges after police say he shot 9-year-old to death"
"5 shot, 1 stabbed, teen killed in separate violent incidents in Atlanta overnight"
"5 teens arrested after shooting, armed carjacking, police chase through metro Atlanta
"16-year-old charged after car dealership security guard is shot and killed"
Orrin Hudson, founder and executive director of the nonprofit, Be Someone, said such senseless violence shatters not only victims' lives but also those of the perpetrators and their families. The community, Hudson said, must collectively stand up and stop the violence by doing more to reach out to youths.
On April 3, 3 to 6 p.m., Hudson is hosting a free life skills workshop aimed at helping youths to make positive decisions at school, at home and in the community. The leadership workshop, which will be held at Hudson's Be Someone Stone Mountain training facility, takes place on International Good Deeds Day and is dedicated to the memory of those whose lives have been impacted by the recent teen violence in metro Atlanta, Hudson said.
"I'm encouraging parents to bring their kids out for the event. I will be showing them how to make the right moves through the game of chess," said Hudson. "We will be giving away free T-shirts while supplies last, and free food. We will be having fun while generating positive energy."
Hudson has been turning young lives around since he began his Be Someone mentoring program more than two decades. He says he clearly understands the stresses young people have faced, especially over the past two years
"COVID-19 restrictions and related matters have changed all our lives, but that is not an excuse to turn to crime and other avenues leading to personal destruction," said Hudson.
Hudson, a former gang member, turned to a productive life that included service in the U.S. Air Force and the Alabama State Trooper after a teacher intervened and taught him the game of chess.  Hudson has since dedicated his life to teaching youngsters and many at-risk kids their lives. He teaches them that there are consequences for their actions and to "think it out, don't shoot it out."
"Good people must stand up and make boss moves when bad things happen," stressed Hudson, "and that time is now."
Free Community Workshop: Positive Energy (P.E.)
Date: Sunday, April 3
Time: 3 – 6 p.m.
Address: Be Someone Training Facility, 949 Stephenson Road, Stone Mountain
All ages are invited 
To register for the free event, email your name and contact information to info@besomeone.org.